If you're looking for a fresh braided hairdo, then we've got news for you. IG is heavily trending braided hairstyles that resemble roses. And the photos are bomb. If you've got skillful fingers that can twist your hair into intricate spirals, then woman you're sorted. Pulling off this fanciful braided rose hairdo should be your next stop.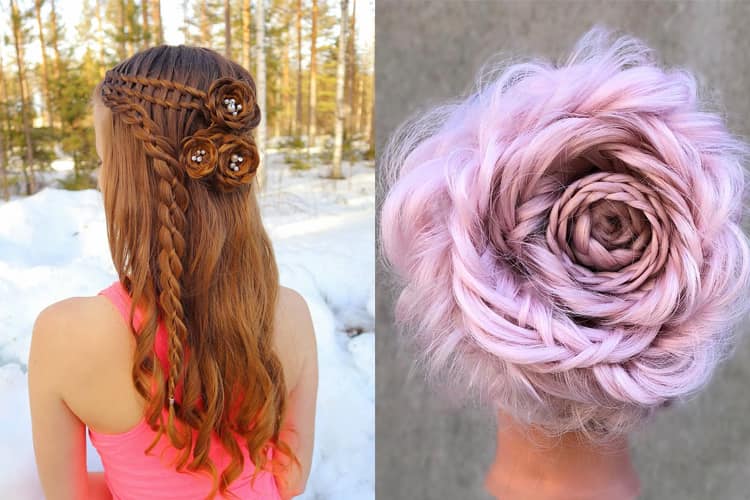 Rose Flower Inspired Hairdos To Follow:
There are a slew of hairstylists on Instagram like Alison Valsamis who drops double-tap worthy flower-design expertise. Below, find few posts of her braided rose hairstyles to allow you to try your hand at it.
"To create these roses, I start with a small 3-strand braid rolled up to serve as the centermost part, Valsamis stated. Next, I alternate between standard fishtails and Dutch fishtails pulled apart to create depth. I finish with a Dutch 3-strand braid only pulled out on the outermost side to create the large petal feel of a rose in bloom."
1. Three Rosettes:
The three rosettes creation as seen on Valsamis is a re-imagined version of the whimsical braided rose hairstyle itself. We suggest you to step up your skills at standard flower-inspired hairdos before plunging into this. Nevertheless, this is giving us major makeover feels.
2. Layered Rose Shaped:
This is next level gorgeous, its' hard to keep our eyes off the different elements here. The layered rose braids or the pink highlighted braids? Or the intricate details atop Valsamis head? But we do agree on one thing: the finishing culminates into an epic look.
3. Flower Embellished Ponytail:
This gorgeous look comes courtesy of hair stylist Missy Sue, who styled her hair in rose shaped braids of varying designs, and pull-up ponytail. She finished the look with slicked-back perfection.
4. Twisted Waterfall Braids, 4 Strand Braids, And Flower Braids:
Get ready to be obsessed with this intricate look: twisted waterfall braids, 4 strand braids, and flower braids sealed together. The hairstylist finished the look with pearl embellishments that cleanly adapts to the finishing touch.
5. Rainbow Extension Rose Braids:
The rainbow extension braids are a reinvented version. Offering proof that festival season hairdo is making a comeback, the hairstylist used a extended creation to bring her braids to life.
6. Pink Rose Braids:
Not your average braided hairdo, as you can see! The hairstylist created this pink knotted rose braids, since why knot? We adore.
The rose braided hairstyles gives major spring vibes and will take into festive mood or just plain show off on IG. It's the hairdo you'll wish to wear all season long.